Prode Properties
multi phase vapor liquid solid hydrate formation software
Title : Hydrate formation, dissociation, inhibition, software, multi phase equilibria

Download the free student edition for Microsoft Windows 32, 64 (versions for Linux and Android available on request)


Do you need assistance or wish to discuss applications ?
Contact Prode

Hydrates in natural gas industry
Interest for hydrates began when researchers found that natural gas hydrates can block gas transmission lines even at temperatures above the ice point, after the discovery many researchers starting from Hammerschmidt, Deaton, Frost investigated the effects of inhibitors such as salts (chloride salts...) liquids (methanol, ethanol, glycols as mono ethylene glycol MEG etc.) on hydrates, thermodynamic inhibitors lower the freezing point and thereby reduce risk of hydrate formation.
Mechanisms of gas hydrate formation and inhibition
The necessary condition for hydrate formation is the presence of water (or ice), gas hydrates can form from dissolved gas or free gas. Thermodynamic inhibitors such as methanol, ethanol, mono ethylene glycol (MEG) etc. can reduce kinectics of nucleation, other inhibitors can reduce agglomeration of hydrate crystals.
Predicting gas hydrate formation
Several methods are available to predict hydrate formation conditions, the old methods (Wilcox, Katz etc.) allow direct solutions while more recent methods based on Van der Waals and Platteeuw theory require a computer software.
Solving multi phase equilibria including hydrate phase
The multi phase flash procedure in Prode Properties solves multi phase equilibria including solid and hydrate phases, given operating conditions and compositions the procedure calculates fugacities plus derivatives of each phase and the second order solver identifies the correct solution. A phase stability step removes unstable phases. The procedure doesn't require the presence of a free water phase and can include single or mixed salts (with electrolyte models).
Accuracy
Prode Properties includes two different models for hydrate phase, a simplified method and a complex method, both based on Van der Waals and Platteeuw theory. Prode Properties allows to select differnt models for vapor, liquid and solid fugacities.
Here, errors (for about 100 points) are determined as difference in hydrate formation pressure calculated by Prode Properties with CPA-PR model vs. measured data sets.
You can contact Prode to receive the complete data set with calculated data and the reference in literature.
Simplified method, SI, SII, SH structures, mixtures with 2 or more formers, errors on predicted hydrate formation pressure :

SI max error < 10% average error 4%
SII max error < 20% average error 6%
SH max error < 10% average error 4%

Complex method, SI, SII, SH structures, mixtures with 2 or more formers, errors on predicted hydrate formation pressure :

SI max error < 7% average error 3%
SII max error < 12% average error 4%
SH max error < 6% average error 3%
Prode Properties is the thermodynamic library created by Prode, it has been verified by Prode and many other companies for more than 25 years of service, there are version for Windows, Linux, Android and client / server installations
Server Side (Linux server) online application examples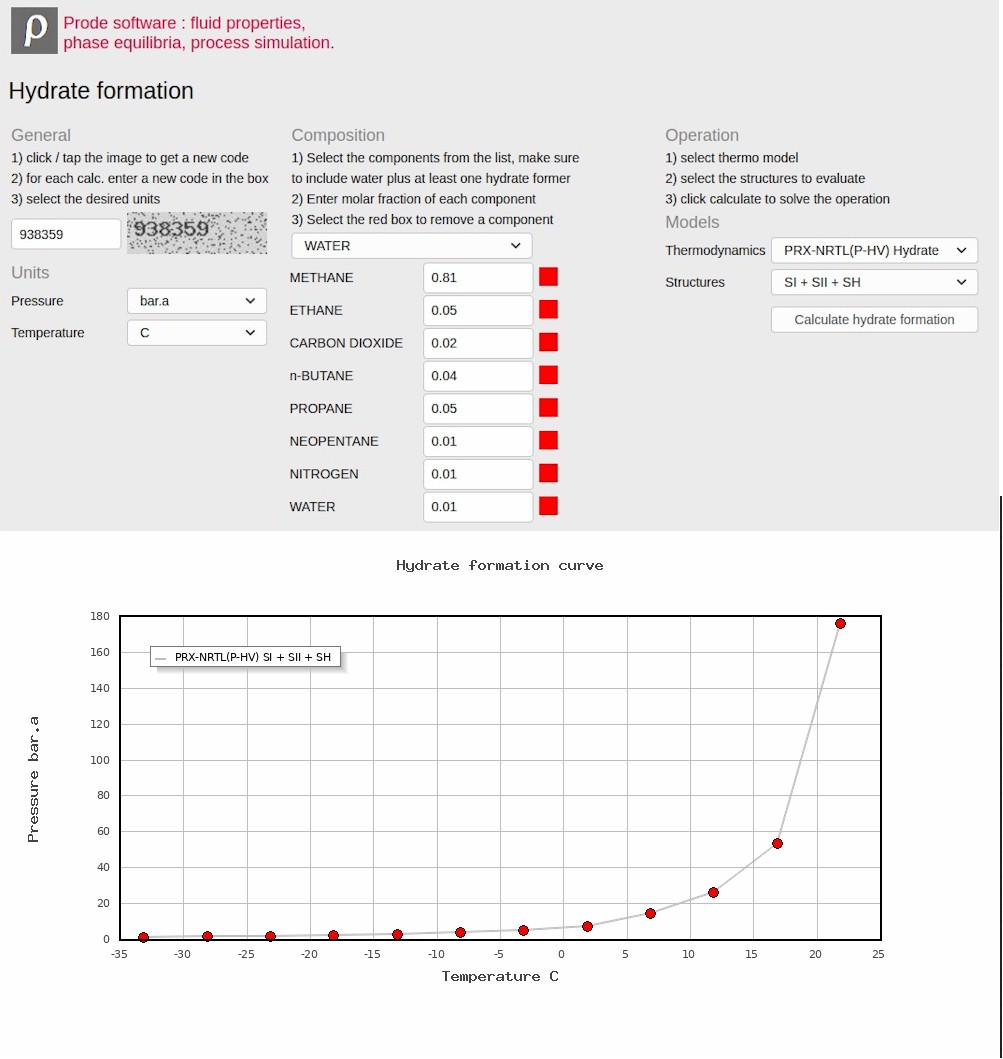 Local (desktop) application example : multi phase equilibria including hydrates with Excel
This Excel application example shows how to use Prode Properties to solve the multiphase flash operation including hydrates and get the results directly in Excel pages.
First step: calculate multiphase equilibria with solids (hydrate formation) from Prode Properties Editor.
Open Prode Properties Editor and in Stream->Operating dialog select the stream 6 in both lists of first and second window
Prode Properties Editor allows to solve a series of predefined operations, select TP-VLSH as flash operation, then enter 277 K and 15 Bar.a as specifications and click on the button "Compute", the procedure will show the the formation of a hydrate phase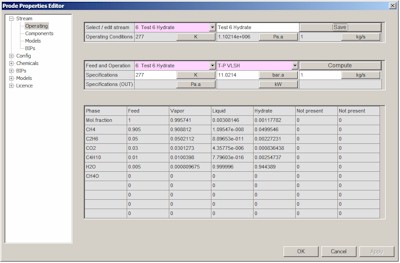 Second step : evaluate how much methanol (or another inhibitor) is required to prevent hydrate formation at specified conditions
You can evaluate how the addition of a small amount of methanol (inhibitor) can increase the formation pressure for hydrate phase, we recalculate phase equilibria with a 0.002 mole fraction of methahol, as result we must increase the operating pressure to detect a hydrate phase, hydrate formation pressure is now about 70 Bar.
To improve the accuracy of phase equilibria in presence of inhibitors it is recommended to adopt specific BIPs calculated from SLE data points (you may contact Prode for assistance)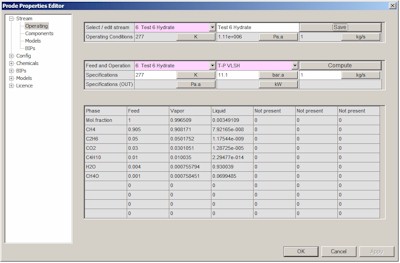 You can obtain the results directly in Excel (open the example page multiphase.xls included in distribution)
Open Properties Editor Operating page and select stream 6
in Models page make sure that multiphase vapor-liquid-solid-hydrate option is set, back in Operating page click on Save button and click Ok to leave the Properties Editor
in Excel input the specified temperature, pressure and stream (6) and click on compute isotheraml flash to see the results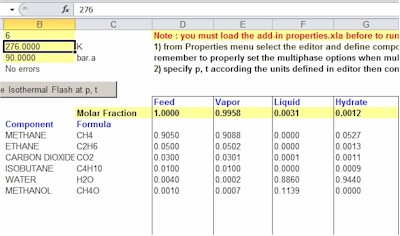 Third step : hydrate formation temperature curve and hydrate formation pressure curve in Excel
With Prode Properties you can calculate the hydrate formation temperature curve or the hydrate formation pressure curve and print a graph in Excel.
open the example page hydrate.xls included in distribution
select the stream 6, edit the stream to modify the composition, if required
click on Calculate Hydrate Formation Curve button to generate the graph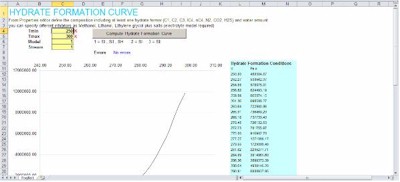 Technical features overview
Entirely written in C++ (since first edition, 1993)
Up to 100 different streams with up to 50 components per stream (user can redefine)
Several compilations of chemical data and BIPs are available, the user can add new components and BIPs

Proprietary compilation with data for more than 1600 chemicals and 30000 BIPs
flexible database format (support for up to 30 different correlations) works with all majour standards including DIPPR.

Comprehensive set of thermodynamic models, base version includes

Regular
Wilson
NRTL
UNIQUAC
UNIFAC
Soave-Redlich-Kwong (standard and extended version with parameters calculated for best fitting of vapor pressure, density and enthalpy)
Peng-Robinson (standard and extended version with parameters calculated for best fitting of vapor pressure, density and enthalpy)
Benedict Webb Rubin (Starling) BWRS
Steam Tables IAPWS 95
ISO 18453 (GERG 2004)
ISO 20765 (AGA 8 model)
Lee-Kesler (Plocker) LKP
CPA Cubic Plus Association (SRK and PR variants)
Hydrates (Cubic Plus Association, Van Der Waals-Platteeuw)
additional models as Pitzer, NRTL for electrolyte solutions, PC SAFT (with association), GERG (2008) etc.

van der Waals and complex mixing rules to combine equations of state with activity models

Huron Vidal
Wong Sandler ( WS )
Michelsen ( MHV2 )
Tassios et al. ( LCVM )

Base and Extended EOS versions with parameters calculated to fit experimental data from DIPPR and DDB
Selectable units of measurement
Procedure for solving fluid flow including multi phase equilibria and heat transfer
Procedure for solving staged columns

Rigorous solution of distillation columns, fractionations, absorbers, strippers...

Procedure for calculating hydrate formation temperature and hydrate formation pressure

hydrate phase equilibria based on different Van Der Waals-Platteeuw models

Procedure for solving polytropic compression with phase equilibria

Huntington method for gas phase
Proprietary method for solving a polytropic process with phase equilibria

Procedure for solving isentropic nozzle (safety, relief valve with single and two phase flow)

HEM, Homogeneous Equilibrium
HNE-DS, Homogeneous Non-equilibrium
NHNE, Non-homogeneous Non-equilibrium

Procedure for simulating fluid flow in piping (pipelines) with heat transfer

Beggs and Brill and proprietary methods for single phase and multiphase fluid flow with heat transfer

Procedure for fitting BIP to measured VLE / LLE / SLE data points (data regression)
Procedure for fitting BIP to VLE values calculated with UNIFAC
Functions for simulating operating blocks (mixer, gas separator, liquid separator) **
Functions for accessing component data in database (the user can define mixing rules)
gas / vapor-liquid-solid fugacity plus derivatives vs. temperature pressure composition
gas / vapor-liquid-solid enthalpy plus derivatives vs. temperature pressure composition
gas / vapor-liquid-solid entropy plus derivatives vs. temperature pressure composition
gas / vapor-liquid-solid molar volume plus derivatives vs. temperature pressure composition
Flash at Bubble and Dew point specifications and P (or T)
Flash at given temperature (T) and pressure (P) multiphase vapor-liquid-solid, isothermal flash
Flash at given phase fraction and P (or T), solves up to 5 different points
Flash at given enthalpy (H) and P multiphase vapor-liquid-solid, includes adiabatic flash
Flash at given enthalpy (H) and T multiphase vapor-liquid-solid, includes adiabatic flash
Flash at given entropy (S) and P multiphase vapor-liquid-solid, includes isentropic flash
Flash at given entropy (S) and T multiphase vapor-liquid-solid, includes isentropic flash
Flash at given volume (V) and P multiphase vapor-liquid-solid, includes isochoric flash
Flash at given volume (V) and T multiphase vapor-liquid-solid, includes isochoric flash
Flash at given volume (V) and enthalpy (H) multiphase vapor-liquid-solid
Flash at given volume (V) and entropy (S) multiphase vapor-liquid-solid
Flash at given enthalpy (H) and entropy (S) multiphase vapor-liquid-solid
Rigorous (True) critical point plus Cricondentherm and Cricondenbar
Complete set of properties for different states

gas density
vapor density
liquid density
solid density
gas Isobaric specific heat (Cp)
vapor Isobaric specific heat (Cp)
liquid Isobaric specific heat (Cp)
gas Isochoric specific heat (Cv)
vapor Isochoric specific heat (Cv)
liquid Isochoric specific heat (Cv)
gas cp/cv
liquid cp/cv
Gas heating value
Gas Wobbe index
Gas Specific gravity
gas Joule Thomson coefficients
vapor Joule Thomson coefficients
liquid Joule Thomson coefficients
gas Isothermal compressibility
vapor Isothermal compressibility
liquid Isothermal compressibility
gas Volumetric expansivity
vapor Volumetric expansivity
liquid Volumetric expansivity
gas Speed of sound
vapor Speed of sound
liquid Speed of sound
vapor + liquid (HEM) Speed of sound
gas Viscosity
vapor Viscosity
liquid Viscosity
gas Thermal conductivity
vapor Thermal conductivity
liquid Thermal conductivity
gas compressibility factor
vapor compressibility factor
liquid Surface tension
Typical applications
Fluid properties in Excel, Matlab, Mathcad and other Windows and UNIX (**) applications
Thermodynamics, physical, thermophysical properties
Process simulation
Heat / Material Balance
Process Control
Process Optimization
Equipments Design
Separations
Instruments Design
Realtime applications
petroleum refining, natural gas, hydrocarbon, chemical, petrochemical, pharmaceutical, air conditioning, energy, mechanical industry